termite control
Termite Control – Canton Termite & Pest Control – Canton Georgia
The termite colony is a complex organism. Each colony contains millions of termites, and the termites are divided into different "castes" based on their role in the colony. There are a 3 major termite castes in the colony, and those are the workers, the swarmers, and the soldiers. By understanding the inner workings of a termite colony, both homeowners and pest professionals can be better equipped to recognize signs of termite activity and eliminate the threat before severe damage is done to your home.
Termite Workers:
Termite workers are the most numerous caste in the colony. They gather food for the colony, protect developing termites, and repair damage to the nest. Termite workers are responsible for the structural damage to your home that termites are notorious for. They consume any type of cellulosic material, which includes any wood, wallpaper, or framing around the home. The workers are relatively small, and are light in color.
Termite workers are rarely spotted out in the open. Most of their work takes place beneath the surface of the soil, where they are either moving inside of the colony or consuming parts of the house from below.
Termite Soldiers:
Termite soldiers are the defenders of the colony. They protect the workers and the queen, and they also assist in preforming any necessary repairs to the structure of the colony. Termite soldiers are physically larger than workers, and have large mandibles that they use to attack any threats to the colony. They are often seen outside of broken walls and tunnels, defending the gap in the nest while repairs are being completed.
Termite soldiers do not feed on cellulosic material. However, they defend the workers from threats, and therefore the presence of termite soldiers in or around your home is a sign that workers are also nearby.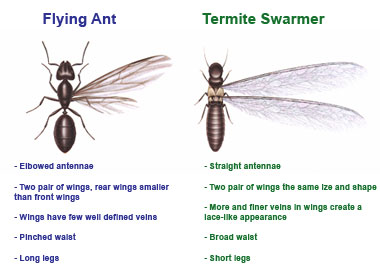 Termite Swarmers:
Termite Swarmers, or alates as they are sometimes called, are the reproductive members of the termite colony. They are best identified by their two sets of wings, and can often be sign flying around your property in large swarmers. During the early spring, termite swarmers emerge from their colonies to meet up with swarmers from other nearby colonies. They will gather by the thousands and then mate. After mating, the termite swarmers will form new colonies nearby, increasing the termite threat to your home.
Termite swarmers are a clear sign of current and future termite activity around your property, and therefore should be treated as a threat when spotted. Like soldiers, the swarmers do not consume cellulosic material, but their potential to form new colonies makes them a big problem for homeowners.
What if you spot termites in your home?
The presence of termites from any caste on your property is a sign of an active termite colony. Termites are capable of causing major damage to your home in a relatively short period of time, and therefore are a problem that should be dealt with sooner rather than later. If you have spotted any signs of potential termite activity, it is a good idea to have a professional pest service thoroughly inspect your property as soon as possible.
Here at Canton Termite and Pest Control, we have decades of experience treating for termites. Our technicians can thoroughly inspect your home, identify any signs of infestation or any conditions conducive for future pest activity, and provide you with the best treatment options for your specific pest problem! All of this coming at a price that fits your budget!
So if you want to ensure your home is termite free, or simply have a question about any pest, call us today at 770-479-1598!
Here's to YOU living pest free!
By: Tim
Termite Bait System treatment
If you have termites attacking your home, it can sometimes be difficult to know which treatment method is best for your home. We have covered in a previous article when and how liquid termite treatment should be used, but there is another common method of treatment that can be used.
This method is known as a bait station system.
Bait stations are essentially food boxes for attracting termites. They are typically filled initially with some sort of wood product to attract termites. Once it has been confirmed that termites are active in the area, the bait is switched with a new supply coated in a slow acting poison. The termites will ingest this poison and carry it back to the nest with them.
Once termites begin to feed at the bait station systems, they will quickly spread the poison to a large majority of the nest, and this will help to decimate the population of the nest after some time has passed.
Bait stations are especially useful for homes that would require intrusive drilling for a similar liquid coverage. Bait stations can be inserted around the exterior of the home, and will attract termites to them and away from areas that would give them access to vulnerable parts of the structure. Homes with slab foundations and finished basements are well served by bait station systems, as this prevents the necessity of deep drilling to protect all parts of the structure with a liquid barrier.
Bait stations require periodic inspections by a trained technician to ensure that they are functioning correctly. While this does often come at additional cost, it allows the stations to act as a early warning system for termites. This means that the technician inspecting the stations will often find dead termites inside of the station, and will be able to identify a termite problem long before damage is being done to the home.
Bait stations are a newer treatment method than the classic liquid treatment. While many pest control companies offer both liquid and bait treatment, certain companies will offer only one. There are a variety of reasons that they will offer for this, but it is important to remember that no termite treatment method is best in every scenario. A well trained technician can inspect your home and tell you which treatment method would best serve your specific situation.
Our team Canton Termite and Pest Control has decades of experience dealing with termites. We are happy to offer both liquid and bait station treatment options for our customers. Our technicians can inspect your home to determine which method will handle your termite service in the most efficient, safe, and cost effective way!
So if you are in need of termite service, or simply have a question, call us today at 770-479-1598!
Here's to YOU living pest free!
By:Tim